Episode 39 of The Species Barrier... Karen I Shragg, author of Moving Upstream: A Call to Solve Overpopulation. In her book Karen challenges everyone from green organisations to politcians to deal with a key causal issue instead of just the symptoms.
World Peace Diet Will Tuttle returns for the second part of his interview and we discuss the anthropocene epoch, Jeremy Corbyn's pro-growth message and should we really be surprised by thousands of legal breaches in the UK's abattoirs?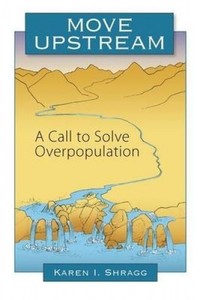 An Important book, the population version of Cowspiracy in many ways.
Listen to The Species Barrier 39 Upstream Here
Download/Listen to the MP3 (Save As): Here

Subscribe to The Species Barrier on Itunes: Here
He's not kidding around. Will Tuttle making hay with goat pals.
The Species Barrier
#38 Show Notes:
Move Upstream: http://freethoughthouse.com/move-upstream.html
Will Tuttle: http://www.worldpeacediet.com/