Episode 18... Marcus gets the chance to play fanboy as we're joined by one of his favourite musical artists, Sticman; half of hip-hop supergroup Dead Prez, producer, fitness and plant-based eating activist. Also after attracting plenty of media interest by being publically branded with a hot iron, Aran, an animal rights activist from the global 269 campaign tells us why.
Also... we look back on the busiest bring and share yet, attending a horse meat debate, Britain blocks bid to save bee populations, climate change cut from school curriculum, violence in slaughterhouse workers and why has Lily Allen offering to kill a pig for Comic Relief caused such an outcry?
Swole Like Tookie Wit' It
Listen to The Species Barrier 18 Fanboy here:
Here
Or download/listen to the MP3 (Save as):
Here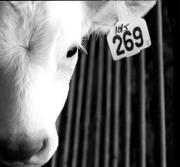 Brand recognition.
Show Notes for episode #18 of The Species Barrier:
Lily Allen offers to kill pig for charity:
http://uk.eonline.com/news/396741/lily-allen-defends-against-hippies-and-vegan-loonies-after-pig-slaughtering-crack
Slaughterhouse workers more likely to be violent:
http://www.news.com.au/national-news/slaughterhouse-workers-are-more-likely-to-be-violent-study-shows/story-fncynjr2-1226560029984#ixzz2Ofa8qbfD
Owen Patterson on bee petition "Cyber attack":
http://www.guardian.co.uk/environment/2013/mar/13/owen-paterson-ban-pesticides-bees
Climate change warning as freezing conditions continue:
http://www.channel4.com/news/climate-change-snow-warning-john-beddington
Second greatest Co2 emissions rise in 2012:
http://www.guardian.co.uk/environment/2013/mar/08/hawaii-climate-change-second-greatest-annual-rise-emissions
Climate change lower on people's concerns:
http://www.dailymail.co.uk/sciencetech/article-2285812/Most-people-longer-consider-global-warming-issue-financial-crisis-changes-priorities.html
EDF drops £5m lawsuit against environmental activists:
http://www.huffingtonpost.co.uk/2013/03/13/edf-drops-5m-law-suit-against-no-dash-for-gas-activists_n_2866445.html
Petition to keep climate change education in schools:
http://www.guardian.co.uk/environment/2013/mar/21/school-climate-change-petition
Elephants imperilled species:
http://finance.yahoo.com/news/killing-spree-slaughters-86-elephants-190129354.html
269 website:
http://www.269life.com/about.html
RBG Fit Club:
http://www.rbgfitclub.com/
Dead Prez:
http://deadprezblog.wordpress.com/
A Vegan Soulfood Guide To The Galaxy:
http://www.nattral.com/shop/a-vegan-soulfood-guide-to-the-galaxy/
Green For All:
http://greenforall.org/
Earth Amplified:
http://www.earthamplified.com/
Food Fight (Video):
http://www.earthamplified.com/archives/966
Global Warning (Video):
http://www.youtube.com/watch?v=aV3C-e2ukWw